Posted by marissa Fajbik on Nov 15th 2023
As we've mentioned before, Senge Graphics is starting to offer options for regular stickers in addition to our motocross graphics. Stickers can be used for many different things whether is for promoting your business, packaging or just for fun. Today we're going to talk about the many uses for our stickers and the options you have!
Sticker Uses
Branding

Stickers are great for promoting your business. You could use them in place of business cards and pass them out. Customers could then place them on their vehicles or other places for other people to see.

Packaging

Stickers are a great option for packaging. For example, if you own a bakery you could order stickers to place on your treat boxes.

Thank yous

Thank you stickers are becoming popular among small businesses, especially online ones. If you own an Etsy store or boutique, thank you stickers would be great to send out with orders!

Parties or Other Occasions

Stickers can also be for parties, weddings, anniversaries, or whatever you are celebrating!

Just for Fun

Some people just like to have stickers for fun! A lot of the stickers we are currently printing are jokes or pranks.
We see a lot of artists ordering stickers of their work too!
Material Options
Just like our motocross material, you have different base and laminate options when it comes to stickers. Differently, the material we are using for these is thinner than for dirt bikes. This material is 2.75 MIL thick, and adding laminate adds another 2.75 MIL.
Base options:
standard (white)

This is the most popular option. We print your design on a standard, white base laminate. This is best for vibrant colors.

holographic (rainbow mirror effect)

We can also print on holographic material. Keep in mind that anything white in your design will be solid holographic, as we do not print with white ink. The holographic material offers a mirror-like effect with rainbow colors.

chrome (mirror effect)

Chrome is another option. Just like holographic, we aren't printing white. Therefore, anything white in your design will be solid chrome. Chrome has a mirror-like silver effect.
Laminate Options
standard (gloss)
matte

This laminate offers a dull, flat finish. It looks especially great with simple, modern designs.

metallic (glitter)

This is laminate that has rainbow glitter in it. It is great for when you want a shiny, pretty, over the top stickers.

no laminate

This is the most popular option. The sticker will still be durable and waterproof, but will not have laminate over top. Therefore, it is thinner but will still be glossy because the material itself is.
On our Amazon listing, there is newly an option to buy a material sample pack. You will get an example sticker of each type of material and laminate combination. They are labeled so you know what is what also. The stickers are fun examples designed by us!
Sizing
For our sizing, you have options from 1" up to 10". If you order a simple shape (square, circle, rectangle, etc.) the size you choose will be the exact dimension. For example, if you pick 1" for a square, your sticker will be 1"x1". If you pick a rectangle, the width will be 1" and the height will be proportionate to your artwork.
Differently, if you choose a die-cut sticker, we are going to make the dimensions according to the square inches so you are getting the most of your money. So, you may end up with a sticker bigger than the dimensions you ordered for, but square inch wise, you are getting what you paid for. In this case, please specify with us if you need the dimensions to be exactly what you ordered to fit something specific. Message us with any questions!
Use our size guide to help determine what size will work best for what you plan to put your sticker on!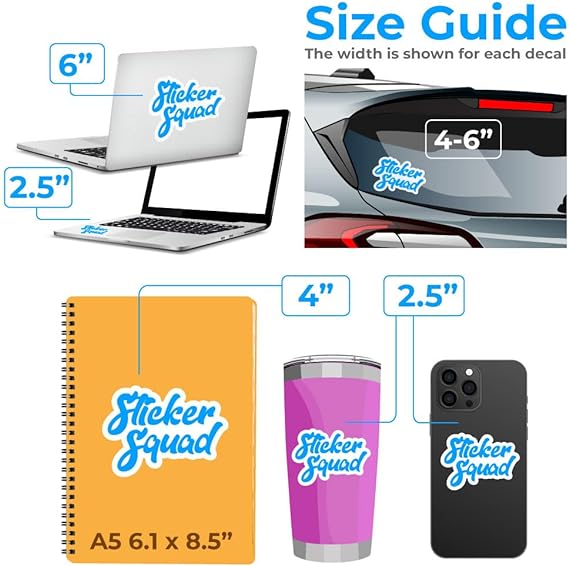 Artwork
To order custom stickers, we will need the artwork from you. The artwork should be in a jpeg or png format and be high quality. Low quality images will print very pixelated.
The artwork provided should be print-ready, meaning we are not making any changes. We may adjust the artwork to fit the cut, such as centering it or making it fit to look great. However, we are not recreating any artwork, changing colors, etc. If you do not have usable artwork, we will let you know and try to resolve the issue.
There are so many uses for regular stickers! For now, you can order from our Amazon listing, but stay tuned for stickers directly from our site! If you have any questions or concerns, reach out to us at support@sengegraphics.com.
We can help you make any sticker to fit your needs!